藝術家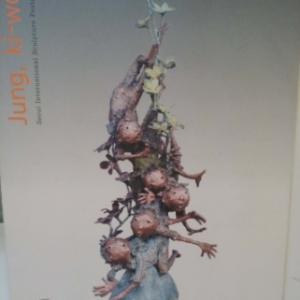 鄭基雄
Ki Woong JUNG
介紹
EDUCATION
1991 graduated from Art Department, Chosun University SOLO EXHIBITIONS
2013 Gallery Mark, Seoul 2012 Hangaram Gallery, Art Center, Seoul 2011 Hangaram Gallery, Art Center, Seoul
2002 Danwon Gallery, Seoul 1999 Insa Gallery, Seoul 1993 Gwanhoon Gallery, Seoul GROUP EXHIBITIONS
1994-2013 Korea Figurative Sculpture Association Sungnam Art Center
1997-2010 Korean Modern Sculpture Chuncheon MBC building
2007-2011 Eowool Sculpture Assembly Light Gallery
1999-2007 Sangroksu Sculpture Assembly Danwon Gallery
2006 -2012 Baekhak Sculpture Assembly Chosun Univ. Gallery, Metro Gallery, and others
2010-2013 Sungnam Sculptors Sungnam Art Center, Amway Gallery
2009-2013 Hwasung Sculptors Dongtan Culture Center
1991 Local Sculptors Invitational Exhibition Kumho Gallery 1993 Premonition Young Spirit Injae Gallery
1994 Confrontation and Direction for Internationalization Dowool Gallery New Expectation Maseok Moran Gallery
1995 Imaginary Space, Hyundai Gallery
1998 Participated in Hwarang Art Festa, Art center, 200 Sculptors, Sun Gallery
1999 4 Sculptors, Insa Gallery
2000 Open-air sculpture, Ansan Ildong Park
Ansan branch, Korean Artists Association Olympic Commemoration B/D, Byulmangsung Exhibition, Danwon Gallery
200 Sculptors, Wing Gallery 2001 Korean-German Interchanging Exhibition 1st Berlin, Germany / 2nd Frankfurt, Germany
prize winners of Korean Figurative Sculpture Grand Contest, Wing Gallery Participated in the 3rd DMZ art festa
Korean-German Art Association, Unbo Gallery
2002 Worldcup Memorial Sculpture Exhibition, Art center
Uijungbu Modern Art, Uijungbu Art Center
Open air Sculpture ,Sangrok Resort, Chunan
World Art Association ,Sejong Gallery
Joint between Enterprise and Culture ,Jaeil Bank B/D
2003 World Art Association ,LA Korea Culture Center
reviewing Worldcup ,Jaeil Bank B/D
Grape Art Festival ,Anyang
2004 Korea Figurative Sculpture Association ,Sejong Art Hall
Meeting of Golf and Sculpture ,Incheon ING Gallery
Meeting of Construction, Human and Sculpture
Gansam Partners General Construction Co.
2005 Exhibition of Small Monument ,Sun Gallery
Seoul Municipal Gallery
Sungnam Art Center 2006 - Rest ,Sungnam Art Center
Open air sculpture exhibition for praying attraction of Yoesu EXPO Odongdo, Yeosu
2007 Mujin Association Members ,Chosun Gallery
Establishing Exhibition of Eolwool Sculpture Association
2008 62 Modern Sculptors Invitational Exhibition ,Chosun Univ. Gallery
Yeosu International Art Festival ,Odongdo, Yeosu
Invitational Exhibition of Young Sculptors , Danwon 3 Gallery
Screened Yongin 31 Movement Memorial monument
meeting of Sculpture and Wine ,Biwoom Gallery
2009 Gwanghwamoon Art Festival ,Sejong Art Center
Kyeonggi Art Grand Contest Korea Figurative Sculpture Grand Contest 2010 Hwasung Yung, Gunneung Art Contest
Opening Exhibition of Hwasung Sculptors Association ,Hwansung U&I Center
Planning Bench ,SangAm
2011 CU& ART FAIR ,Chosun Gallery
3 dimensional sight view on Jeju ,Jeju Int'l Art Center
meeting of 50men 50colors
Sangam High Tech Industrial Complex
Hot Summer ,Cosa Space
Into the life - Visiting Gallery ,Anyang Culture Center
Differently and together each other ,Sangam DMC Advertisement Hall
Open air Sculpture Exhibition for commemorating opening Osan Gallery, Osna Gallery
Hot Summer Exhibition ,COSA Space
Korea Figurative Sculpture Grand Contest
2013 Supporting Exhibition for Motor Show ,Ilsan KINTEX
Hantan River On air Sculpture Trend Exhibition
Yeon Cheon Prehistoric Site
These Moments - Incheon Municipal Museum Invitational Exhibition
Incheon Municipal Museum
Face of Sungnam - Imaging Sculpture
Sungnam Art Center - Cube Gallery
Art Fair
2010 Art Gwangju 2010 ,KDJ Convention Center
Eowoolim Art Show, Asan Onyang Hotel
Daegu Art Fair , EXCO Center
Scop Art Fair , Miami, USA
2011 Seoul Art Festa ,Novotel Ambassador, Seoul
KIAF/2011 ,KOEX, Seoul
2012 Hwarang Art Festa ,KOEX, Seoul
2012 Modern Art Show ,Trade Center, Yangjae-Dong
KIAF/2012 ,KOEX, Seoul
Art Asia ,KOEX, Seoul
Collections
1989 Gwangju Dongshin Univ. 1995 Nowon Sculpture Park 2000 Ansan Ildong Sclupture Park 2002 LH Corp. Cheongju Gahyeong Risidental Zone 2003 Youngin LG Xi APT Sungkyunkwan Univ. Universiade Sacred Torch Tower Ansan City Hall Cheonan Sangnok Resort 2006 Pocheon Jinsan Gallery Naju Daebang Nobleland APT participated in the establishment at Jongro Lemeilluer B/D 2007 LH Corp. Gwnagju Jinwol A-3 Block 2008 Gwnagju Suwan Residertal Zone Sculpture Park Chuncehon MBC 2009 LH Corp. Hwasung Dongtan 4-5 Block LH Corp. Pangyo A23-1 Block Lotte Confectionery Co. New B/D Incheon Gumdan Lotte Mart 2010 Ansung Kumseok River
LH Corp. Chingbuk Geungpyeong
2011 Gwanju Suwan Residental Area Daebang Nobleland APT
2012 LH Yeosu EXPO
2013 Yongin Lotte ECO Award
1993. 6.9 The best selection in MBC Korean Figurative Sculpture Contest / Admission (90, 92) 1997. 11.17 The special selection in Korean Grand Art Contest / Admission (91,95,96,98,99) Present
Vice chief of Korea Figurative Sculpture Association, Member of Korea Artists Association (Hwasung Branch), Member of Korea Sculptors Association, Member of Sungnam Sculptors Association, Member of Hwasung Sculptors Association, Member of Baekhak Sculpture Association, Member of Eolwool Sculpture Association, Member of Jomi Association, Lecturer of Art College Chungbuk Univ.
返回列表